Mission Statement
There are 7.8 billion humans on earth and half are women. Our mission is to put a t-shirt on each female across the globe.
Vision Statement
Phemale Wear is a woman only clothing line designed to be a visual reminder of how powerful women can stand together in the fight against domestic violence.
  About US
About Silvia Townsend
Silvia Townsend is founder and President of Phemale Wear, LLC and Phemale Safe House, Inc.  Silvia born and raised in Columbus, OH in 1969 to JoAnne and Henry Townsend.  She has 8 other siblings 3 sister and 5 brothers.  Silvia, who is the mother of 2 daughters, 2 grandchildren and a maltese named Snooki.  She's currently, an active Licensed Practical Nurse since 2009.  A graduate from Bohecker-College in Westerville, OH.  Silvia is still a member of her local rap group the "Phemales" who tried to breakthrough in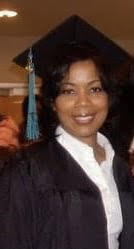 to the music industry since 1998.  During her journey she connected with Kevin Hightower a local movie producer with PMR Entertainment and was featured in the movie "Jacked Up" as an extra with a song on the movie credits name "It's too late" performing with Denise Saulsbery.  They both came together to start a clothing line and a Phemale Safe House for domestic violence abused women.  The goal is to develop four safe houses in Columbus, OH.  And with the mission to support and counsel victims of DVA and help educate the greater community and connect victims with the resources.  In 1997, they both lost their friend, "Mimi", one of the rappers in the group before Silvia became a member due to domestic violence through gun violence by her boyfriend who is currently serving federal time.
The mission is to connect with the women in their community and bring awareness about the abuse cycle effecting and taking many lives.  What is abuse? Treat (a person or an animal) with cruelty or violence, especially regularly or repeatedly.  What is domestic violence?  Also, called intimate partner violence (IPV), is a pattern of behaviors used by one partner to maintain power and control over another partner in an intimate relationship.
Is this a learned behavior?  Yes, Exposed through (social group) family, peers.  Observed in their neighborhood and community.  Reinforced by what is seen on Tv, internet, video games and movies.
About Denise Saulsbery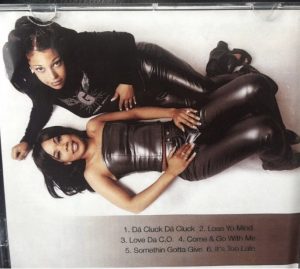 Denise Saulsbery is the Co-Founder and Co-President of Phemale Wear, LLC and Phemale Safe House. Born and raised in Columbus, Ohio in 1967 to Joyce Saulsbery and Herbert Lyles.  Denise is the oldest of 8 Siblings.  A divorced mother of one daughter and one grandson.  Currently Denise is an Employee of the United States Postal Service, a self-taught Pastry Chef and Chocolatier with a business called Chocolate & Stilettos.  Denise is also a licensed Esthetician, graduating from the Ohio State School of Cosmetology Spa School.
From 1987 to 1989 Denise attended a HBCU Central State University, an Alpha Sweetheart and currently a member of the CSU Columbus Alumni Chapter.  As a child growing up, Denise's plans were to become an Actress.  From traveling every summer to New York to visit her grandmother in Harlem.  Denise was introduced to Broadway Plays like the Wiz, Movies and Fashion like getting her first pair of Jordache Jeans to different ethnic foods like Paella, to buying her first album The Sugar Hill Gang.
In 1989, Denise decided to leave CSU to and move to Los Angeles in the hopes of perusing a rap music career with her cousin Michelle Giamarco.  Together they formed a group called Hit & Miss.  Hit & Miss met various Rap Artist, recorded and performed shows.   Although the struggle was real, Denise later returned back home to Ohio.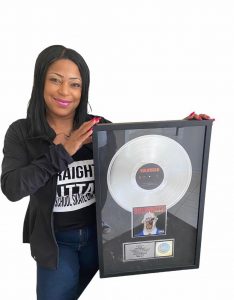 Back in Ohio, Denise met "Mimi", a local rap artist.  The two formed a group called D-Fyne, short for Dangerously Fyne and signed with a local record company called The Columbus Mob.  These ladies opened up for many groups like "Naughty by Nature", "Ghetto Boys", "Method Man", "Mo 'Thugs", "Ice Cube", even the late "Notorious B.I.G".   D-Fyne later changed their group name to "Phemales" and even branded their own Record label "Phemale Mafia Records", traveled to Germany and London England to record a video and music single with Gwen Dickey of the group Rose Royce "Love Don't Live Here".  Sadly, after returning to the United States several days later something horrible happened. Mimi was murdered by her boyfriend the very exact same day of signing a record recording contract with a German label.  The passing and murder of Mimi was devastating to Denise the Record label and the Community.  During this time, the ladies known as D-Fyne landed a spot on the platinum movie soundtrack "Bulworth", as well as "Fakin da Funk".  Mimi never had a chance to see the opportunity of finally becoming a famous female rap duo which was definitely in their future.  Silvia Townsend, who is a mutual friend of Denise and Mimi, had just did Mimi's nails within a couple hours of the time of Mimi's murder and was the last time Denise and Silvia would ever see their friend and partner alive from stepping out of the shop to sign the contract.  Mimi's last words to Denise was make sure we get copies.  Being a victim of domestic violence, Mimi's death was very hard for Silvia to accept.  Shortly after Mimi's untimely death, Silvia joined up with Denise and together decided to a clothing line called Phemale Wear in honor of their beloved friend to spread the awareness of domestic violence which later turned into a rap partnership continuing the legacy of Phemales.
Together Silvia and Denise began recording, traveled to Oslo Norway and London England.  These ladies were born hustlers,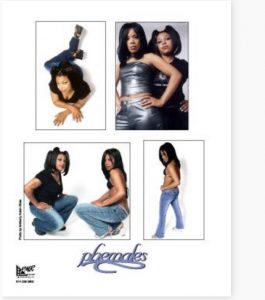 working 9 to 5's and hitting the streets and clubs selling T-Shirts.  Continuously rocking the mic in search for fame.  As the years passed, 20 years later, Phemale Wear is back!  Silvia and Denise are ready to re-introduce the World to Phemale Wear.  Silvia and Denise also have a nonprofit called Phemale Safe House, Inc.  Together they have a true love and passion to motivate and inspire women who have become Victims to Domestic Violence.  As a child Denise has seen the effect that abuse can take and swallow up the souls of women
and children.  Silvia and Denise stand to make a change to help women build courage and confidence within themselves.
The launch of Phemale Wear and Phemale Safe House will open the doors to new beginnings to one and all who enters The World of Phemale!